10 Guilt-Free Essential Oil Candles
Ten guilt-free DIY essential oil candles you'll regret not making sooner. Learn how to make essential oil versus fragrance oil candles.
We've all been there, the guilt feeling as you pass by the candle section in the store. It smells so wonderful, but your mind knows how toxic it truly is for you. Still, the fragrance calls out to you like a forbidden fruit. You're able to ignore the temptation but, by the end of the day, there's still a scent lurking in the back of your mind, prodding your better judgment.
Fear not; all hope is not lost. Despite candles' bad rep amongst the knowledge of natural living, discoveries have been made of substitutions to replace the toxic elements used in common candles, such as paraffin wax and other VOCs (volatile organic compounds). When I think of formaldehyde being released into the air along with a long-term effect on your health, it's definitely not worth that really unique scent. 
Luckily, there's a way to avoid those toxins and stop feeling guilty about having candles in your home. Did you know there are a wondrous variety of essential oil candles that will rid your mind of remorse over harmful store-bought candles?
This article contains some affiliate links for your convenience; read the full disclosure policy.
How do you make candles with essential oils?
When it comes to making essential oil candles, soy wax and beeswax are the best types of wax to work with as each is nontoxic. And both types of candle wax will burn more slowly than normal candles and thus allow the candle to retain its scent longer. 
It isn't the easiest thing, but essential oil candle making can be extremely rewarding if you're up to a bit of challenge. Not only is it money efficient, but you also get to use a blend of oils of your choosing.
If you're looking for a full in-depth tutorial on how to make essential oil candles, then check out our how-to on making essential oil candles the right way. 
Can you burn essential oils in a candle?
Yes, it is certainly possible to burn the essential oils off in the candle-making process if done incorrectly. For example, if you add the essential oils to the wax mixture at too high of a temperature, the scent will go away entirely. (Definitely, something everyone wants to avoid). As delicate an art as essential oil candles are, following the instructions makes this risk easily avoidable.
Related To: Diffusing Essential Oils
What essential oils mix well together for candles?
Strong smelling essential oils are the best for use as candle fragrance as they'll linger longer in the candle, and the scent will fade away less quickly than a weaker scent. Take cinnamon, for example; it's a strong and highly popular scent, and cinnamon will last longer than, say, a weaker oil like blue cypress. 
That aside, it can be challenging to find which essential oil scents will actually smell good together. Believe it or not, there's a tool to help with that! 
If you're hitting a roadblock with your essential oil blending, take a look at this hassle-free blending wheel, or if you'd like a more candle-specific guide, our best essential oil blends for candles are printable from our Oily Chic Library. 
Ready to get into some irresistibly divine-smelling essential oil candles? Me too! So let's get started!
10 Safe Essential Oil Candles to Make Your House Smell Divine
1. Essential Oil DIY Tea Light Candles
If you're just starting out making candles, starting small is the best way to start. These essential oil tea lights are an excellent choice for candle beginners or anyone who doesn't have the time to take on a tremendous project.
2. DIY Fall Essential Oil Candles
No matter what time of year it is, there is no debate that blends and scents associated with autumn are always comforting. There's something about that coziness that never fails to warm the house. If you also love the delightful fragrances of fall, then you will adore these fall essential oil candles. 
3. Travel Friendly Lavender Essential Oil Candles
While holidays are often the most common time to travel, many of us find ourselves traveling throughout the year for a myriad of reasons. Traveling can leave us feeling a variety of different ways, but it's without a doubt tolling on the body. To me, there's no scent more soothing than the light and calming fragrance of lavender. If you're longing to travel with that comforting aroma, take a look at this lavender travel candle tin DIY! 
4. Farm Fresh Pine Essential Oil Candles
There really is nothing quite like the smell of a lush green forest, and no one redolence represents that better than pine. Whether you're a lover of the outdoors, a fragrance connoisseur, or just desiring a forest scented candle, these farm fresh pine candles will have you enjoying that crisp wood essence in no time!
5. Scented Beeswax Essential Oil Candle
If a customizable candle recipe is what you're searching for, then this scented beeswax essential oil candle is ideal for you. It truly is as easy as following the DIY and adding your own scented spin to your candle!
6. 5-Minute Safe Mason Jar Candles
For anyone that's searching for a quick and easy candle recipe that doesn't even require the use of soy wax or beeswax, these 5-Minute mason jar candles are a perfect DIY! Not only do they look beautiful when finished, but there's no limit to the different combinations you can make when you let your creativity loose!
7. Lavender and Vanilla Essential Oil Candles
Lavender and vanilla are an impeccable scent combination for a multitude of reasons, so what better way to enjoy that iconic fragrance mix than to "candle-ify" it? Not only does this DIY lavender and vanilla soy wax candle smell amazing, but the pearl white color will also complement your house just about anywhere!
8. DIY Citronella Essential Oil Candles
These citronella candle tea lights are not only a lovely smelling candle but can also serve the very practical use of being a natural fly and mosquito repellent! (Talk about solving two problems at the same time!) Whether you use it to repel bugs or infuse your house with its pleasant scent, you can't go wrong with these DIY essential oil candles.
9. Stress Melting Essential Oil Massage Candles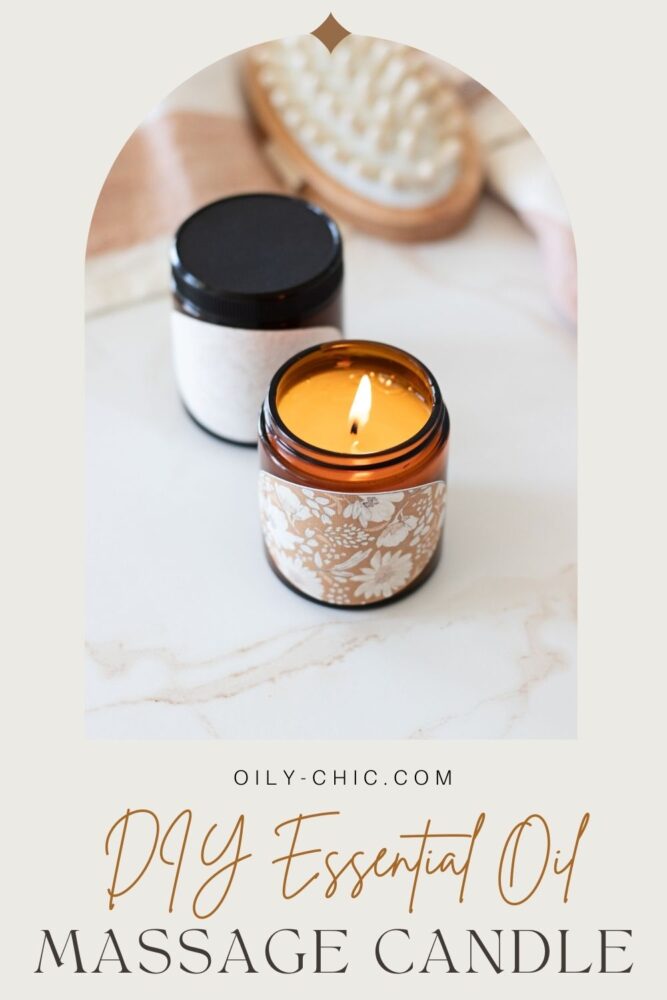 Massage candles are utterly genius for melting away stress! If you've never experienced one, stop what you're doing now because your senses will never be the same. Our massage candle recipe with a blend of pure essential oils has a spa-like herbaceous aroma that doubles as a massage oil to soothe fatigued muscles.
10. Essential Oil Pumpkin Spice Candles
While it certainly has a most popular time of the year, pumpkin spice is a fun fragrance to enjoy year-round and is reminiscent of those cozy cinnamon scents in the store-bought "home-y" candles. Perhaps you're searching for a change of pace, or perhaps you're prepping for the fall season. No matter the occasion, you'll love these essential oil pumpkin spice candles.
So what are you waiting for? Whether you have a lot of time or a little, there's always a fun candle DIY that you can make and use without the worry or guilt of store-bought candles. Try it once, and before you know it, you'll have essential oil candles coming out the wazoo!
MORE ESSENTIAL OIL DIYS:
P.S. Don't forget the free printable candle blend charts above! Tag #oilychic on Instagram to share your essential oil DIYs with us.