You'll Melt Into these 5 Ways to Have a Spa Day At Home with Friends or Self Care Time Just For You
Five ways to have a spa day at home with friends or for self-care time. You'll melt into these blissful essential oil spa day ideas for pampering and relaxation.
Few things compare to walking into a spa and taking a deep breath of the unique aroma of herbal, earthy, yet delicately floral, and just a touch of citrus. The aromatherapy helps to instantly begin letting stress fade away.
Combined with the sound of a babbling brook and dimmed lights, the environment tells us it's time to relax.
Are you longing for a spa experience but rather recreate a spa day at home?
I hear you, who wants to call two months in advance to get an appointment, hire a sitter, and dedicate an entire day to a trip to a spa? Not to mention, you'll have to drive home after you feel like butter and would rather lay still or take a nap. 
Lucky for us, we can use essential oils to recreate a spa-like experience at home.
From the ambiance to the spa treatments, having a relaxing and luxurious spa at home is easy with these five ways! 
For your convenience, this article contains affiliate links; read the full disclosure policy.
How do you do a spa day at home?
There are many ways to plan a spa day at home, but we've compiled five unique methods that are easy to achieve and don't require a big spend.
The first step is planning a time. You could carve out a pocket of time just for you, or you could have a spa day at home with friends. Each can be just as fun and rewarding as the other! 
Keep in mind that it doesn't have to be during the day, either. If other commitments, errands, or conflicting schedules make the daytime difficult, you may want to consider the evening. 
You may find it much easier to find spare time in the evening for the opportunity to pamper yourself for self-care or with friends. And if you're inviting friends for a spa night, it will give you more time to prepare.
The next step is deciding what you want to do during your spa day. If you're the athletic type, you might find yoga combined with aromatherapy to be more relaxing than sitting idle. 
If you lean toward crafts to de-stress, you may want to host a spa day making essential oil bath bombs, bath oil, or fragrant bath salts.
Or maybe a spa day is all about a massage for you. Either way, you'll find simple tips to recreate the ambiance of the spa and beauty recipes for spa treatments below!
With the right components, you'll experience these spa day benefits in your own home.
Benefits of a Spa Day at Home
A Spa Day Helps You To De-Stress
Spa Treatments Can Reduce Muscle tension
Relaxation Promotes Better Sleep
Free Up Anxiety with an At-Home Spa Day
Provide Aromatherapy Through Various Methods
Related To: 15 Essential Oil Bath Bomb Recipes
What items do you need for an at home spa day?
It might surprise you that most of what you need for an at home spa day, for me time, bonding with your daughter, or getting the girls together, is likely already in your pantry. 
Each of these ways to have a spa day at home requires few ingredients other than essential oils. Some methods are easy to pull together on a whim, and other ways are best prepared ahead of time and enjoyed after. 
So, choose what best fits your wants and needs from the spa ideas below. Try them one by one, combine a few, or dive in for a full spa day! It's all up to you. Because this time is for you to unwind and recharge.
Related To: 8 Bath Salt Recipes
Melt Into these 5 Ways to Have a Spa Day At Home with Friends or Just Me Time
Are you ready to melt into these five ways to enjoy a relaxing spa experience at home? Start with cranking up the spa vibes, then choose one or more spa treatments for "me time," bonding with your daughter, or having a girl's night in. 
Wrap yourself up in your softest robe and slice the cucumber because it's spa time!
1. Crank Up the Spa Vibes
You may have noticed the unique environment of the spa is one of the best parts of the experience. Nothing makes a spa day more welcoming than recreating that atmosphere!
Crank up the spa vibes with a playlist – this Spa Lounge playlist on Spotify is one of my favorites. Then set the mood by dimming or switching off overhead lights if you don't have dimmers. I recently bought a few LED color-changing dimmable light bulbs that come with a remote. They work in any lamp and are excellent for creating a relaxing environment. 
Add warmth and aromatherapy to your spa space with DIY aromatherapy candles. They are an easy way to create a glowy atmosphere to put your body into a state of relaxation.
As the creamy soy wax melts, essential oils pillow into the air, and the scent is utterly relaxing. But, when it comes to aromatherapy, it isn't just about a great scent. Aromatherapy candles can provide many benefits from the essential oils included in the candle blend recipe. Check out the tutorial!
If you're short on time, skip the candles and add an essential oil blend to your diffuser. Here you'll find nine distinct spa essential oil blends to tell your brain it's time to feel relaxed, pampered, and stress-free. With just a few drops of essential oil, you can get that spa smell at home – again and again. And we've put them all together in one printable blends chart.
Find this essential oil blends chart and many more essential oil printables in the Oily Chic Library. It has all the essential oils that smell like a spa in one easy printable!
You could meditate, practice yoga, or just soak in the bathtub while you benefit from the aromatherapy of either option.
2. Pamper Your Lips
This spa treatment doesn't require an expensive beauty product or tool. It's easy to pamper and exfoliate your lips with a DIY lip scrub made with just three ingredients. Together these ingredients shed dead skin cells and restore moisture to the lips.
After applying a lip scrub, keep your lips soft and happy with homemade lip balm. If you thought making lip balm was complicated and felt a little nervous about the process, don't be. These lip balm recipes are SO EASY to make. Seriously – you can make them in 5 minutes or less with only a few ingredients in the microwave.
What do you need to make essential oil lip balm at home?
To make essential oil lip balm, we start with this simple base of four all-natural ingredients; you likely have in your pantry. Then we add essential oils to create yummy, fun flavors and scents. 
3. Turn Your Shower Into A Spa
Here's a spa idea I bet you haven't thought of! If you need a recharge, but don't have much time on your hands, turn your shower into a spa. 
Use a simple aromatherapy shower mist spray made with essential oils to recharge. Turn your routine shower into spa steam with a few quick veils of the mist of this DIY shower spray into the steam.
Shower, Relax, And Breathe In.
That's all you have to do once you bottle it up!
If you love the idea of bath bombs, but don't have a bathtub, make these DIY essential oil shower steamers. Not only are they a great alternative to bath bombs, but they are also the next best thing to smudging sage!  
You see, these shower steamers are made with sage essential oil and sage leaves for aromatherapy. Find out why I think this shower steamer recipe creates the best aromatherapy shower steamers anyone can make! As well as, how to use shower steamers to reap the benefits of aromatherapy steam in the shower.
4. Massage At Home
If a spa day is all about a massage for you, then we've got you covered! Whip up an easy DIY massage oil to soothe sore muscles or just for relaxation.
How do you make massage oil with essential oils?
With our DIY massage oil recipe, it is easy to make a massage oil with coconut and essential oils in just three steps. Its silky smooth consistency feels incredible on the skin and is so easy to make you have to share it! Don't miss the printable list of the best oils for massage too. 
If you have more time or want to host a crafty spa party, why not make essential oil massage candles?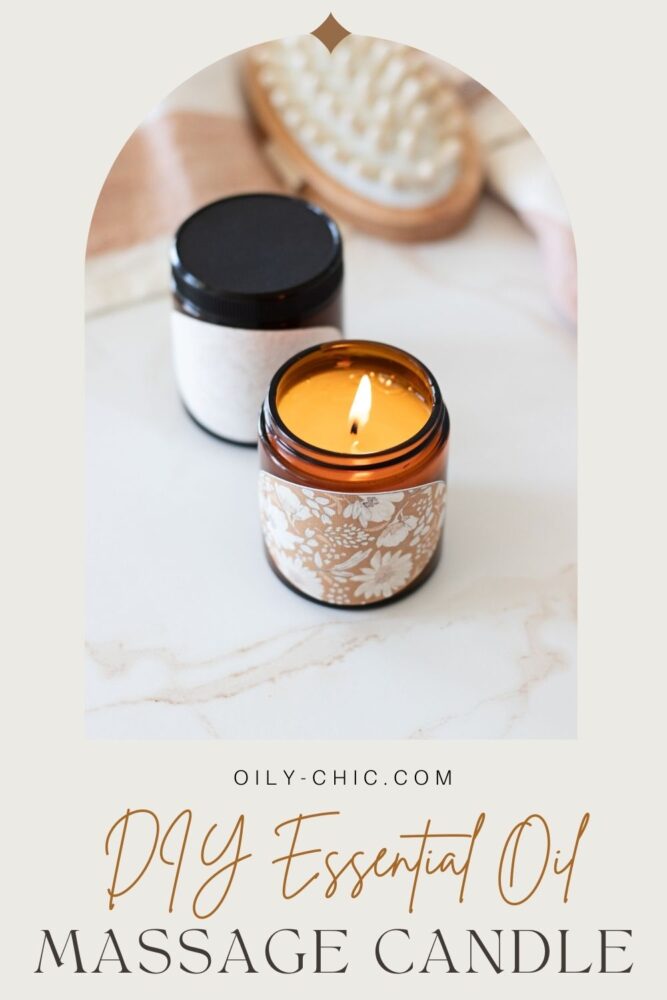 This massage candle recipe with a blend of pure essential oils is utterly genius at melting away stress! It has a spa-like herbaceous aroma that doubles as a massage oil to soothe fatigued muscles. Engage the senses as you pour the warm massage oil over your skin to smooth away stress.
If you've never experienced one, stop what you're doing now because it's time to heat things up and learn how to use massage candles!
5. Recreate a Spa Manicure at Home
You'll love the fact there's nothing that needs to be prepared ahead of time to have a spa manicure at home. So, if it's time to update your nail polish, why not skip the unnecessary chemicals in standard acetone nail polish removers? Instead, you can use essential oils to not only remove your polish when it's time for a change, but nourish your nails in the process.
This essential oil DIY manicure is a natural way of sprucing up your nails, employing plant-based nutrients and vitamin-rich carrier oils for supple, moisturized skin and cuticles. Along with adding a brilliant shine to your nails without a single brush of polish!
You won't miss a thing by recreating a spa manicure at home with the best oils for nails and cuticles! 
That's all there is to it! With these five ways to have a spa day at home, you'll feel relaxed, recharged, and ready to take on the world… or take a really good nap. 
MORE ESSENTIAL OIL DIYS:
Pin these five ways to have a spa day at home to your Pinterest self-care board, and while there, follow Oily Chic for more inspired ideas. And don't forget to print your spa essential oil blends chart!
P.S. Did you know you can tag #oilychic on Instagram to share your essential oil DIYs with us?