Christmas DIY Essential Oil Gift Ideas With All The Charm
Christmas DIY essential oil gift ideas for him, her, and the kids too! Each are easy DIY gifts that you can make at home but look fabulous!
The holidays! What a joy-filled season full of gift-giving, lights, candy canes, hot cocoa, and long warm baths (You know, the special ones where you finally get around to using that bath bomb you got last Christmas?). Only one problem, you've got a gift list longer than Santa's naughty list, and you've got absolutely no idea what to get anyone. (Ironic essential oil graphic tees only work so long, after all.)
What if I told you the answer is not out in an elaborately decked out mall, but actually can be found within your own home? That's right! 'Tis the season for gifts made with essential oils! Give a gift that they'll never stop using or grow out of using with essential oils. Good for a joyful heart and a healthy body.
Wrapped in red, white, and magic, follow along for Christmas DIY essential oil gifts that will bring a smile to anyone's face.
This article contains some affiliate links for your convenience; read the full disclosure policy.
What gifts can you make with essential oils?
If you're worried about there only being a few choices of essential oil DIYs, don't be! There are more essential oil DIY gifts than I know what to do with! From bath salts and lip scrubs to shower steamers and kids confetti soap, there's almost nothing you can't do with essential oils, especially when it comes to the season of giving.
Related To: Warm Up With 5 Winter Essential Oil Bath Salts
What essential oils are good for Christmas?
While there are plenty of oils to go around if you're looking for a holiday diffuser blend or just oils you can use for that special Christmas spirit, try blending a calm woodland scent like Cedarwood with an essential oil from the spice category, such as Cinnamon bark, will blend as smoothly as a winter wonderland.
If you're curious about what oils blend well, check out our free to use blending wheel in the Oily Chic library! Or use these printable essential oil blend charts that show you what combination of essential oils smells like Christmas.
Now that you've gotten a little sneak peek into some of the delightful DIYs you can make with essential oils, let's get to it!
Related To: Festive Christmas Essential Oil Blends
Cheerful DIY Christmas Essential Oil Gift Ideas Made Easy!
Follow along for some of our all-time favorite Christmas essential oil DIYs that are certain to put a smile on anyone's face. Turn up the holiday tunes, pull out your essential oils and let's DIY it Christmas style with these essential oil gift ideas!
Easy Vanilla Honey Lip Scrub
Depending on where you live, the winter season is infamous for being chilly and sometimes even below-freezing temperatures. This can lead to dry or chapped lips that are uncomfortable and even painful sometimes. This vanilla honey lip scrub is perfect for gifting in holiday bags and is great for travel to get silky smooth lips at home or on the go.
Cinnamon Spice Shower Steamers
It may seem like a myth, but plenty of incredible essential oil DIYs make great gifts for guys! Give the gift of a rejuvenating wash with these easy-to-make cinnamon spice shower steamers.
Eucalyptus Candle Melts
These invigorating eucalyptus candle melts make for a perfectly unique DIY Christmas gift. They're affordable to make, easy to put in a gift bag, and smell amazing! Plus, they burn up to five times longer than a standard candle.
Relaxing DIY Bath Oil Recipe
Part of what makes the holiday season so grand and beloved is the simple fact that it gives us time to stop and enjoy time with family and friends. The chaos and busyness of the year, especially leading up to the holidays, can cause stress which can lead to aches and pains. What better gift to give than the gift of a spa day with this Relaxing Bath Oil Recipe?
Pumpkin Spice Sugar Scrub
Whether you're in a climate where you find your skin drier than the Sahara or just love a good sugar scrub, this Pumpkin Spice Sugar Scrub will make a perfect gift for anyone in your life. Not only does it smell like the essence of fall, but all kinds of hands will also thank you for the luxurious gentle feel after just the first use!
Diffuser Ornament
Who doesn't love adding another ornament to the tree at Christmas time? Whether your tree is classy, elegant, or peculiarly perfect and personal, this DIY Essential Oil Diffuser Ornament will make a magnificent addition to any Christmas tree this season! Plus, it lets the scent of choice waft through the tree and house, a win-win!
DIY Peppermint Soap
Admit it, no matter how hard you search; there's almost no good soap for men. He wants the most boring, unhealthy "guy soap," but you know better. Give him the gift of a refreshing moisturizing soap that not only smells amazing but leaves him with a fresh cool feeling that he'll enjoy time and time again with this DIY Peppermint Soap.
Stress Melting Massage Candle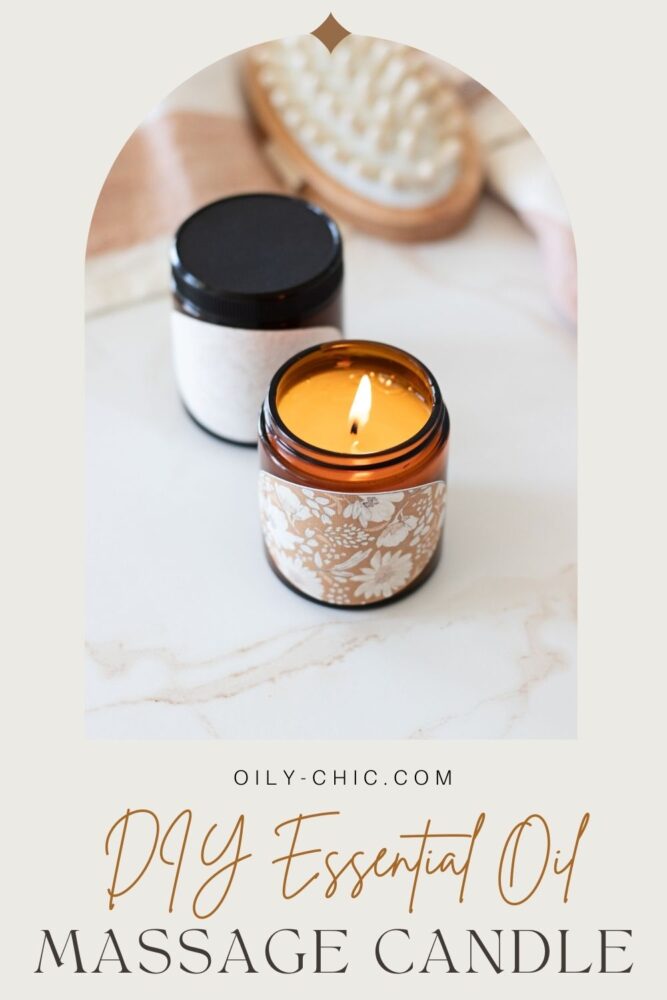 Life takes a toll on the body, no matter what stage of it you're in! Sometimes more than materials, what we really want for Christmas is a chance to rest, relax and rejuvenate before we even dare to think about that New Years' list.
Give him the gift of a spa-like rest treatment with this ingenious massage candle that will melt away all the built-up knots and stress.
Confetti Soap
If there's one thing that all kids can agree on is fun, it's confetti. It's bright, colorful, and tends to get everywhere. This fun to make confetti soap is so easy to make you can even let your kids help you so they can make some for their friends! There's no way to have more fun washing your hands than with this soap that's as fun as it is good for you.
Roller Blends for Kids
If you haven't done this already, I promise you it is a lifesaver! There's so much stress on kids of all ages, especially through the school year. Your kids will love these easy-to-make roller blends for any trouble, whether it's school, staying with grandparents, or midnight tummy troubles.
Sage and Aloe Clear Soap
Give the gift of mindfulness this year with this cleansing and great sage and aloe clear soap! No matter who you're gifting, there isn't a person who won't love this revitalizing soap that's perfect for any bathroom.
Lavender Body Butter
Who doesn't love good body butter? Not only does it make the best companion for your skin, it feels amazing, and it's just in general fun to make! Spoil your loved ones this Christmas with this magnificently moisturizing whipped lavender body butter!
Cozy Warming Orange Clove Bath Bombs
Who doesn't love a good bath bomb? They are essentially "the easy button" to relaxation. And this orange clove bath bomb recipe adds a beautiful twist to its appeal with warming clove and sweet orange essential oils. Make a batch to fill his stocking with this DIY gift for him!
That's all there is to it! I hope you enjoyed this holiday magic-filled list of essential oil gift ideas for the bustling holiday season. It's never too late to turn on the tunes and roll up your sleeves for some fun and easy essential oil diys!
MORE ESSENTIAL OIL DIYS:
Pin these festive DIY Christmas essential oil gift ideas to your Pinterest Christmas board, and while there, follow Oily Chic for more inspired ideas. And don't forget to print a Christmas essential oil blend chart!
P.S. Did you know you can tag #oilychic on Instagram to share your essential oil DIYs with us?